When she fell for a satire about Sarah Palin joining Aljazeera and posted about it. A correction was issued but the URL lives on:
http://www.washingtonpost.com/blogs/she-the-people/wp/2013/02/12/sarah-palins-plan-to-reach-millions-of-devoutly-religious-people-through-al-jazeera/?wprss=rss_she-the-people
.
The title of her post now reads: "Sarah Palin tries to stay relevant". Bwahahahaha, it really should read as "Suzi Parker tries to stay relevant".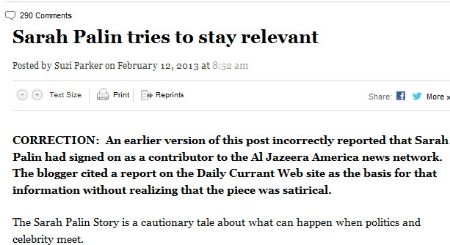 Mz Parker has been busy blocking people now because of @her (
@suziparker
) and the hashtag
#suziparkerscoops
h/t
Twitchy
[
Crosspost
]